Plannings & Building Regulations Drawings
Architecture & Drafting
We can produce site specific architectural design solutions, from initial feasibility sketches through to detailed construction architectural drawings. Our architectural services also include surveying buildings and creating accurate scaled drawings of existing properties and working up full scaled planning application drawings. Planning Permission is usually required if you intend to alter the appearance of your home in any way with an extension, conservatory, roof dormers or should you wish to change the use or divide part of a building for use as a separate dwelling.
Permitted Development
If your work falls within permitted development rights you are required to have a lawful development certificate.
Building Regulations
We produce detailed construction drawings with comprehensive information for building regulations approval and the construction team. New buildings and most alterations to existing properties require approval from the Building Regulations Officer or Inspector. 

Building regulation rules are in place to ensure health and safety in or around buildings, but also for access and energy use in buildings.
See Our Planning & Building Regulation Details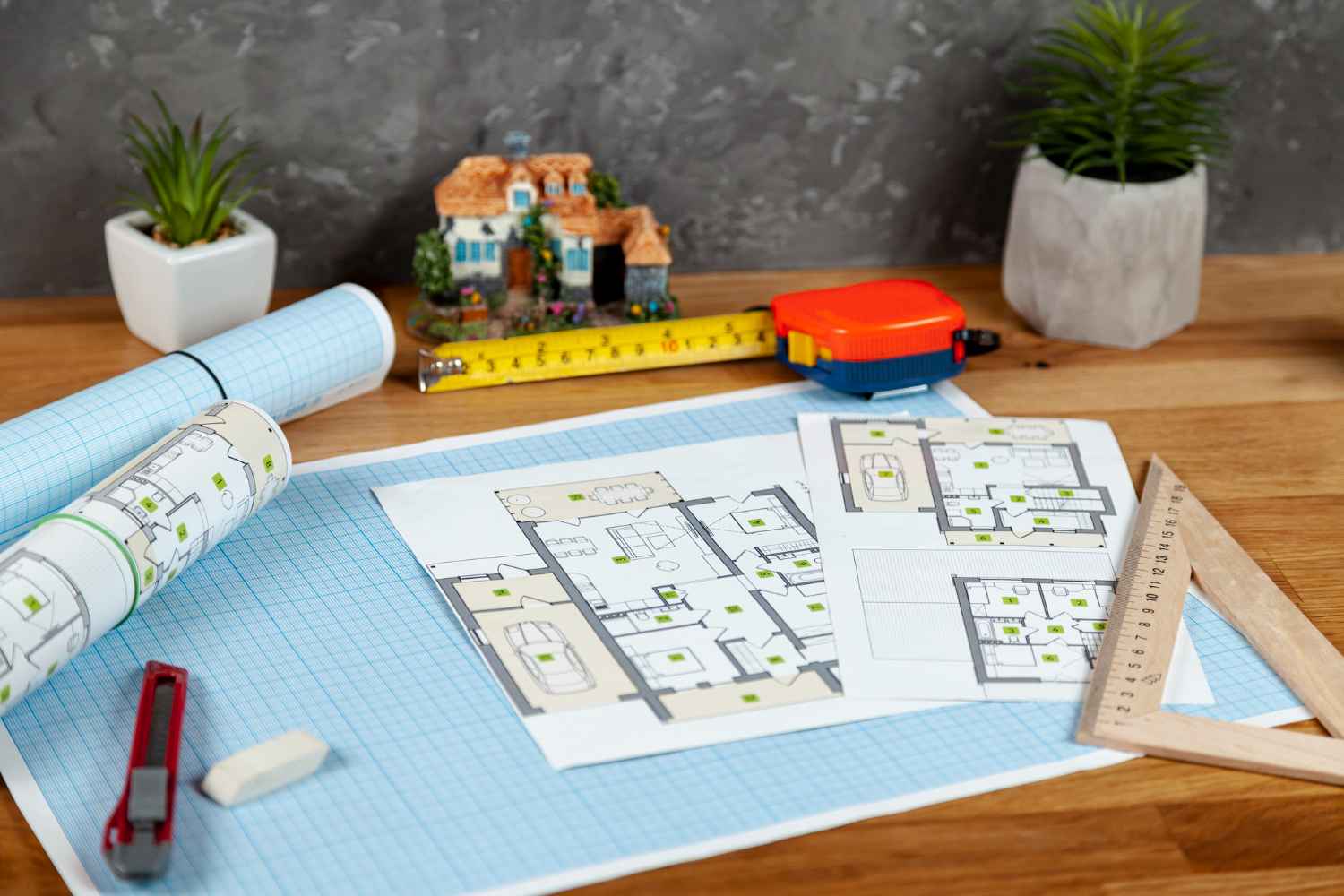 Constructing a house is a once-in-a-lifetime opportunity, with an aim to design a perfect floor plan accommodating growing needs for a long time. However, it can be as overwhelming and nerve-wracking as exciting.
Whether navigating complex regulations or producing architecture planning drawings for your house, you require concrete guidance from architecture experts throughout your pre-construction phase to ensure maximum output for your project.
Krystal Architecture, with the help of its qualified and experienced architects, aims to produce the most meticulously designed planning drawings Essex has to offer. Contact our experts, and let's get a step closer to designing your dream house.
Let's Talk About Your Project
What Is Included in Planning Drawings?
Site Plan: An aerial view outlining property boundary, access points, and zoning crucial for project context and compliance.
Floor Plans: Detailed layouts of each floor, displaying room arrangements and sizes, essential for interior visualisation.
Elevations: Exterior views showcasing architectural features, materials, and heights for assessing aesthetics and design compliance.
Sections: Vertical cuts revealing internal structure, ceiling heights, and key construction details, along with 3D renders.
Roof Plan: Details roof shape, pitch, materials, and rooftop features, ensuring functionality and aesthetics.
Site Details: Specifications for landscaping, paving, and outdoor elements, contributing to site aesthetics and usability.
Building Details: Close-up views and specs for doors, windows, stairs, and materials, ensuring construction adherence.
Legends and Symbols: A reference key explaining symbols and notations used in the house planning drawing in Essex, ensuring consistent interpretation.
Annotations and Labels: Dimensions, labels, and notes for clarity and understanding of design and construction.
Look no further. Feel free to contact us and discuss your project details here. 
Benefits of Hiring Professional Architectural Services
Expect the following benefits with our architectural drawings in Essex:
Qualified professionals aware of all the complications in designing a building.
A team well-versed in all the health and safety guidelines to design your building while ensuring complete code compliance.
We optimise the available space to meet the unique requirements of every project.
We provide vital suggestions during the design phase to make your house more suitable for your needs.
We meticulously design projects, providing clarity to your contractor and expediting the construction process.
We also help you during the planning permission process by providing complete planning drawings in Essex.
Krystal Architecture – Contact Us
With years of experience in the field and a team of highly experienced and creative architects, we ensure to produce unique architectural plans in Essex for every project we take on. We integrate modern technology into our designs to provide unprecedented clarity.
Along with our services for home plan drawings in Essex, we are also offering related services, such as:
3D Modelling
Lease and Title Plans
SAP/Energy Performance Calculations
Measured Building Surveys
Structural Engineer Calculations
Civil Engineering
Acoustic Design
Application to Water Waste Management
Contact our customer services to discuss your project and witness the creativity and perfection of our architects.
Let's Talk About Your Project